Ensures quickness of
action combined with full professionalism and quality of the services rendered

We run a detailed diagnosis of the organizational culture

We determine the profile of the job by describing its main goals and tasks

We confront the Client's expectations with the employee's predispositions

We are always at your disposal
iPrime Jobs was formed in order to meet the expectations of the clients who realise that the costs of hiring employees can be controlled and optimized the same way any other cost within an enterprise can be. Since the beginning, we have been setting very high, yet possible to achieve, goals. The basic one is comprehensiveness and impeccable work organisation. Another is continuous growth and striving for improving our company and offer – everything to provide you with comfort and sense of personal stability in creating your own business. Guarantee of success.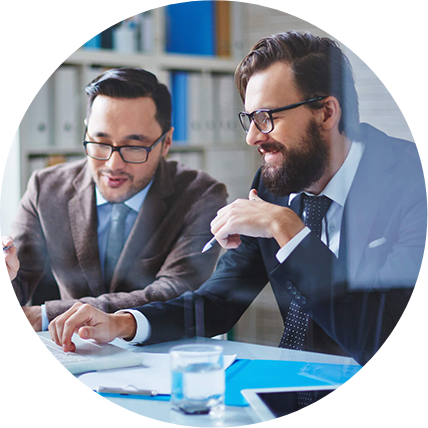 iPrime Jobs
are us – people with passion and incredible energy for action. According to our philosophy, a person constitutes the most important capital for each company; they lay a solid foundation for the construction of a stable and permanent organisation. Without good workers, even the best idea will be like a castle built on sand. This is precisely why at iPrime Jobs we bet on people. We deal with job agency and consulting in the wide field of HR. Owing to the experience of our team, we have become specialists in recruitment:
– permanent
– temporary
– headhunting
There are no vacancies that we can't fill with appropriate staff. We bet on stability, certainty and responsibility. These three features have helped us choose the Philippines as the place for finding staff appropriate for work at your organisation. It was the Philippines who were assessed by numerous Polish and European employers very positively, as a group of employees who perfectly execute tasks entrusted to them, who respect the work they perform, and who accomplish the goals, for which they were hired.
iPrime Jobs promotes employment opportunities in Poland among strongly motivated Philippine workers, who always strive to raise their life standard and work towards a better start into the future, both for themselves and for their families.
"A renowned job agency which guarantees to the Philippines all over the world ample employment opportunities in Poland."
"We act as an intermediary between the employees from the Philippines and our clients-employers from Poland. We guarantee stable employment to workers with any qualifications."
Employees from the Philippines are a BRAND!
The Philippines are very responsible people, who respect the duties they are entrusted with, who have a serious approach to work and the employer. Do you strive to achieve success, optimize costs and stability growth of your company on the European and global markets? Bet on iPrime Jobs and workers from the Philippines. The Philippines are:

a nation who is very close to the Polish people in terms of character and mentality we have love for
the family and determination in accomplishing goals set in common

people who identify with the employer and the tasks
entrusted to them

lesser cultural differences – the Philippines is a country inhabited nearly by 110 million people, mostly Catholics

a smaller language barrier – in the Philippines the English language is the official language; around 90% of the society speak it fluently

smaller formal barriers – employees from the Philippines can work in Poland for up to 3 years after obtaining a visa.
Learn the benefits arising from employing workers from the Philippines today. Check us out and see for yourself how much we can do for you.